Machine data acquisition in the production
The digital transformation is not only finding its way into all areas of life, but also into the everyday work of every industry.
However, there are clear differences in the pace of change. The IT and media industries feel the change abruptly and profoundly – even through the discontinuation of business models.
In the field of mechanical engineering, the digitization of the 21st century is only gradually being introduced.
Although programmable logic controllers have replaced hardwired controllers long ago, the step towards machine park networks, digital shadows of production and real-time evaluation is still to come.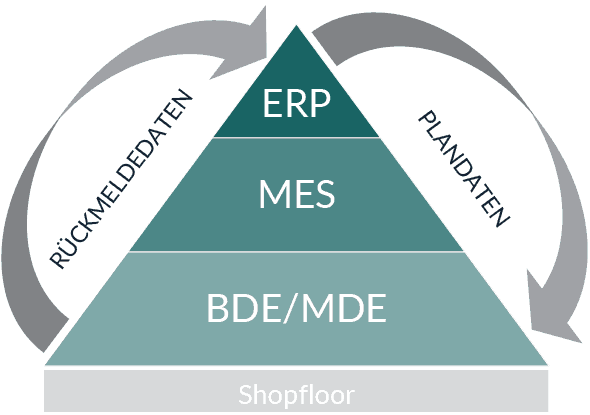 The acquisition of machine data is a core element for this. Because it is the central building block in the EDP pyramid of a company.
First, master data, parts lists and other planning data are taken from the ERP system and, if necessary, transmitted to a Manufacturing Execution System (MES). There they are combined with plant orders and finally forwarded to the shop floor as an attachment to production orders.
On your shop floor valuable information such as production and downtimes as well as good and bad quantities are produced during processing.
If you collect and use this information as feedback data, you can analyze production orders and optimize processes according to OEE . 
In the following, we will explain possible technical implementations for successful machine data acquisition.
Technical implementation of machine data acquisition
Schematic structure of the machine data acquisition (MDE)
Machine data acquisition refers to the interface between the machines where information is generated and the information processing.
The recorded data can be subdivided into product data and process data. Product and process data can be reused in two ways. On the one hand, they can be incorporated directly into the machine control as influencing variables.
On the other hand, they provide you with a central data source for production data collection and form the basis of every data-based control and evaluation. They can analyze production processes precisely, uncover optimization potentials and realize productivity increases in the sense of the continuous improvement process.
You can implement the machine data acquisition technically both automatically and manually.
Automatic recording has the advantage that it always runs in the background and can not be forgotten. Modern machines usually offer interfaces such as e.g. the communication standard OPC-UA or the serial standard RS-232. Among other things, these interfaces can be used to obtain data on the condition of the machine as well as set-up and processing times directly from the machine control. This ensures excellent data quality.
If you have an existing machine park without interfaces, Retrofitting offers a method for automatic detection. Retrofitting in this context refers to adding sensors to machines. Depending on the manufacturing process, these record meaningful data, such as specific load profile, movement or acceleration, in order to obtain therefrom characteristics such as e.g. Lead time and quantities for you to generate.
If your manufacturing processes or parts of them do not allow retro-fitting, a manual capture is a suitable alternative. For these, either the machines are equipped with message stations, in the form of standard tablets, or made available to employees smartphones. Both devices have the Selfbits Manufacturing Suite app installed, allowing you and your employees to capture job and machine related data.
The Selfbits Manufacturing Suite provides the required master data as well as current production orders on the terminals as MES.
The Selfbits Manufacturing Suite allows you to combine all three methods for machine data acquisition with its modular design.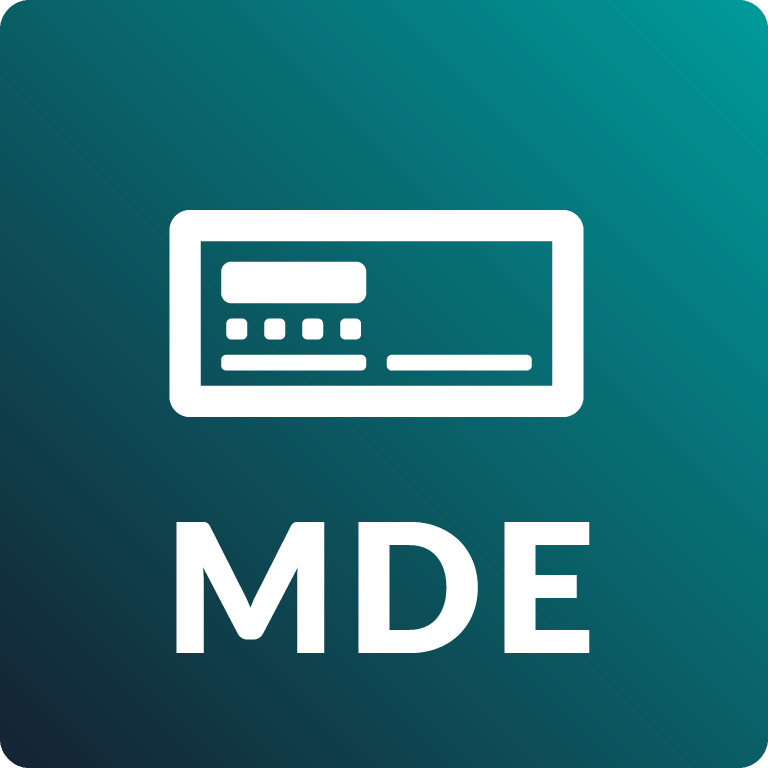 MDA by Selfbits
Learn more about our MDA solutions