Disruptions in production

Machine malfunctions occur daily. You are responsible for lower delivery reliability, higher costs and rejects. However, in many companies there is no defined process for dealing with disruptions in a targeted and profitable way. In general, this works like this: employees stop work and check whether they can identify the cause of the error and rectify it themselves. If this fails, they report the incident to their supervisor. He then fixes the error and helps with the restart. As a result, the machine has been stationary for some time, has caused additional costs, but is now running again.
Additional costs are directly related to the reduced cycle speed and now possibly unachievable production goals. The disruption can also lead to delivery delays and other hidden costs that an effective incident management can reveal. An example of this loss of effect is the key figure OEE.
Another key aspect is that the disorder has been resolved, but valuable information about when it occurred (eg early / late / day shift), what part was worked on or what steps were taken to resolve it, are usually known only to employees. But this information could explain exactly why the disorder came first. Possible improvement potentials that lie in the process and in the workpiece are lost if the data can not be directly recorded and subsequently analyzed.
New, digital solutions, on the other hand, allow employees to report disruptions and their reasons directly digitally. Since management and masters in their web dashboards receive a visual indication of this, intervention and downtime can be reduced. Therefore, a stable overall equipment efficiency (OEE) can be more easily achieved.
In addition, the analysis options within the web dashboard provide important insights, especially to draw attention to systematic problems, such as non-assembly or manufacturing-compatible constructions. Thus, disturbances can be sustainably reduced by controlling the causes. By way of example, the network diagram on the screenshot from the web dashboard shows which types of disturbances have occurred with which frequencies.
Used features of the Selfbits Manufacturing Suite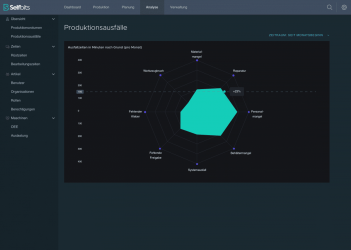 Faults are either recorded automatically by the machine or manually by tablet and stored, including the cause of the fault. In the event of a breakdown, employees can be notified automatically. In the web interface, faults over time can be visualized in terms of duration and reason.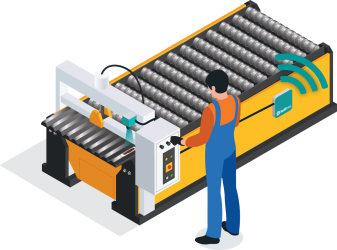 With the help of flexible hardware solutions, we help you to continuously capture, store and provide relevant machine and sensor data for specific articles and orders.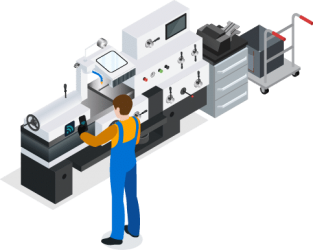 Real-time capture of production data
Use tablets on machines or the flexibility of smartphones to record set-up times, machine downtime and reasons as well as good and bad parts flexibly in real time.
Selfbits Shopfloor Solutions
Boost your success
Take advantage of Selfbits' flexible solutions to optimize your utilization and reduce waste.