ven today, many operating data are entered manually in paper lists. The drawbacks are obvious: mistakes can be made in filling in, but there is no room for corrections. Submissions are later than intended because the document was not available or other activities had to be completed first. In some cases, only estimates are recorded.
Unfortunately, the problem of reporting data in paper form does not stop there. Mostly they are collected in an inbox at another point in the production before being captured in the digital system. Short-term plan deviations are therefore only recorded with a time delay. In case of doubt, registration takes place the next day or even once a week. Since the person who enters the data into a digital system is usually not the person who recorded the data, reading difficulties may also arise. More decisive, however, is usually handling in production, which also leads to contamination or damage. As a result, production planning may receive the actual data so late that a reaction to deviations is no longer possible in time to fulfill customer orders.

The problem does not arise with the Selfbits Manufacturing Suite thanks to digital production data acquisition. Real-time machine and operational data is made available by reporting on retrofit machines with sensors, retrieving data directly from the controller, or manually recording from the tablet. Transportation and storage data is also collected from tablets coupled with scanners and shipping documents.
Production planning thus has permanent real-time data on the current production status. It can react dynamically and quickly to deviations and lay the foundation for planning small batch sizes.
Used functions of the Selfbits Manufacturing Suite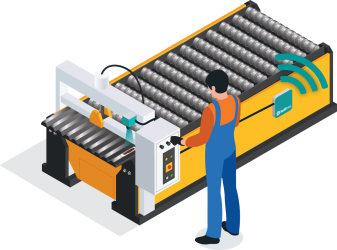 With the help of flexible hardware solutions, we help you to capture, store and provide relevant machine and sensor data on an ongoing basis for specific articles and orders.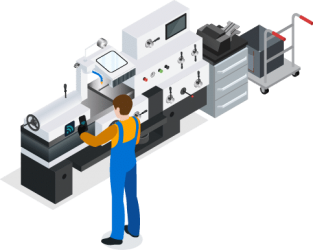 Real-time Capture of Production Data
Use tablets on machines or the flexibility of smartphones to record set-up times, machine downtimes and reasons as well as good and bad parts flexibly in real time.
Digital production orders h3>
Supply your employees paperless with production orders and relevant job information such as drawings, setting parameters, article descriptions and diagnostic procedures on tablets at machines and workstations.
Selfbits Shopfloor Solutions
Boost your success
Take advantage of Selfbits flexible solutions to optimize your utilization and reduce waste.