Part tracking in production

In many companies, order status is recorded digitally only at two points: on release and on completion, when it leaves shipping. Although a finer-level recording is done on paper in the form of a goods receipt, the data is usually only time-delayed or not recorded in the software system of the company. Thus, the current order status is only known to the employees who are currently working on it.
If a customer contacts his sales representative to ask for the order status, no information is available other than the plan data. Depending on the importance of the job, the search is then carried out in the production itself. This means that the employee personally goes through the production steps and searches for his order. Obviously this is very time consuming and not very effective. After a successful search, he can call back the customer or inform him by e-mail about the current status and respond to his wishes.

Here, the Selfbits Manufacturing Suite offers a much simpler and more efficient method: During the call, the sales representative can call up the Web Dashboard of the Selfbits Manufacturing Suite and log in with his login data. The Manufacturing Suite has its own salesperson interface, which gives you information about the status of your production orders. There they can simply search for the customer or order number and see exactly how much has already been produced.
The Manufacturing Suite provides this functionality as all production jobs are managed digitally. Production planning can schedule the orders visually based on Gantt chart and employees on the shop floor are guided through the app on the tablet to the machines or their smartphones by the order. They report times, scrap, and completed quantities within the app.
In this way you gain transparency internally and can give your customers better service. At the same time, of course, this results in internal advantages for quality assurance and production management.
Functions of the Selfbits Manufacturing Suite that are used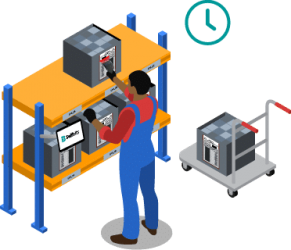 With the help of tablets and handheld scanners on the shop floor, the flow of goods and materials in production can be recorded. In the web interface, the material flows and inventories are visualized in real time.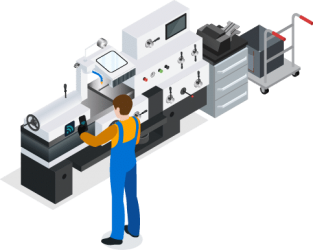 Real-time capture of production data
Use tablets on machines or the flexibility of smartphones to record set-up times, machine downtime and reasons as well as good and bad parts flexibly in real time.
Digital production orders
Supply your employees paperless with production orders and relevant job information such as drawings, setting parameters, article descriptions and diagnostic procedures on tablets at machines and workstations.
Selfbits Shopfloor Solutions
Boost your success
Take advantage of Selfbits flexible solutions to optimize your utilization and reduce waste.